Colorectal & General Surgeon
Laparoscopic (Keyhole) & Endoscopic Surgeon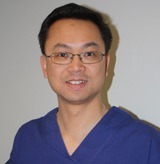 Dr Michael Soo
Dr Michael Soo is a specialist laparoscopic (keyhole) and Gastro-intestinal surgeon.
He graduated with a Bachelor of Medicine from the University of Sydney and received his training in General Surgery at the Prince of Wales Hospital, Randwick undertaking an intensive 5-year training program in Upper and Lower Gastrointestinal surgery at leading surgical units in Australia.
He performs complex lower gastrointestinal surgery including surgery on the stomach, gallstones, adrenal glands, anti-reflux surgery, and abdominal hernia surgery with a particular focus on the laparoscopic (keyhole) approach.
He is the primary author of a number of scientific and research papers including a publication in the highly respected medical journal, The Lancet.
He is a member of the Royal Australasian College of Surgeons and Society of American Gastrointestinal and Endoscopic Surgeons.
Dr Soo holds Visiting Medical Officer appointments at The Mater Hospital, Sydney Adventist Hospital, Norwest Private Hospital.
He is also fluent in Cantonese and Mandarin.
Chatswood Surgery
Suite 5, Level 2
66-70 Archer Street
Chatswood, NSW 2067
Bella Vista Surgery
Norwest Specialist Medical Centre
Suite 101, Level 1
9 Norbrik Drive
Bella Vista NSW 2153
Sydney CBD Surgery
Medicentral Specialist Suites
Level 11, Regent Place
501 George Street
Sydney, NSW 2000